Are your processes out of control? Are you considering automating your Change Management process? Let us bring our years of experience working with customers in a variety of industries.
We can work with your team to develop a robust 
automated
process using Teamcenter workflow tools.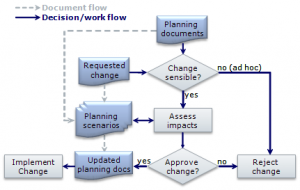 We believe in keeping things simple. Complicated processes and algorithms are intimidating to users, and usually waste valuable time. We can suggest methods to automate required process logic so that it occurs behind the scenes.
Processes must be:
Measurable – Regardless of what process you have implemented, without being able to measure it, you stand no chance of knowing whether it is improving or degrading. We have experience with reporting on Teamcenter process metrics using OOTB capabilities. When necessary, we implement limited customization to leverage those OOTB capabilities to their fullest extent.
Accountable – No matter how good your process is, if no one is accountable, your throughput will not improve. We can help you evaluate your organizational structure in the context of your Change Management process.
Time-bound – With open-ended tasks, Change Management processes inherently fall prey to more "urgent" tasks within the business. By setting time limits and embedding proper notification mechanisms into your workflows, the right people will know when tasks are not being completed on time.
Repeatable – Changes implemented differently every time are very costly. Let us help you to standardize your process using OOTB tools. By enabling your staff, continuous improvement will be a breeze.
We bring people-centered skills to assist you and your team in assessing the best ways to implement complicated business processes. We are experienced and comfortable working with upper management to find workable solutions providing lasting benefits.
We can offer advice and suggest improvements to existing Change Management Processes regardless of which PLM system you use.